Journal "Reproductive Endocrinology" is a modern look not only at the obstetric and gynecological problems in the context of endocrine diseases, but also on family planning problems and prospects for development of the fetus, and urological problems of andrologic profile and other top priorities for the publication of an emphasis on the clinical evidence base, diagnostic algorithms, treatment and prevention, and provide the maximum amount of useful scientific and practical materials.
Readers are invited to urgent aspects and the views of leading national and foreign experts on targeted issues publications. Authoritative editorial board of the journal "Reproductive Endocrinology" admits to print only the relevant materials on the basis of the positions of medicine. Journal  is regularly printed materials that translated foreign authors and reviews based on recent publications in leading international journals, the presentation of the most important recent clinical guidelines and consensus of international importance, articles review based on foreign materials, comments of national experts.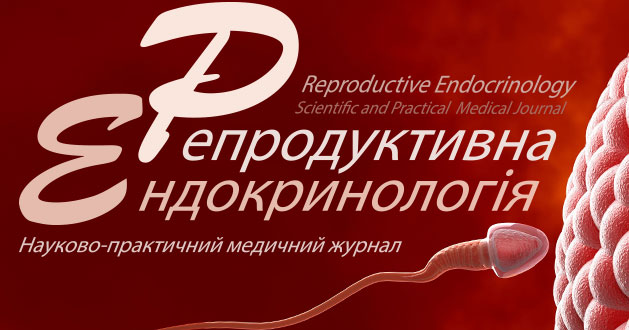 Announcements
НАУКОМЕТРІЯ ТА ІНТЕГРУВАННЯ ВІТЧИЗНЯНОЇ НАУКИ В МІЖНАРОДНУ СИСТЕМУ ОЦІНКИ РЕЗУЛЬТАТІВ НАУКОВОЇ ДІЯЛЬНОСТІ

Науково-практичний журнал «Репродуктивна ендокринологія» розпочинає тематичний освітній цикл «Практикум для вчених-медиків», присвячений наукометричному аналізу, без якого неможливе ефективне управління наукою на сучасному етапі та інтегрування вітчизняної науки в європейський та світовий дослідницький простір. Впровадження цієї рубрики викликано необхідністю розповсюдження спеціалізованих знань серед науковців, практичних лікарів, керівників у галузі охорони здоров'я, які беруть участь у наукових дослідженнях та публікують їхні результати в наукових виданнях. Проведення практикуму має на меті покращити обізнаність фахівців щодо принципів наукометричної оцінки результатів наукової діяльності та практичного використання основних показників наукометричного аналізу.

More...

Posted: 2015-12-29

Международные наукометрические базы. Что нужно сделать?

Борьба за признание в мировом научном мире требует системного подхода. В частности, мы надеемся, что наших читателей и авторов воодушевит проводимая в настоящее время редакцией журнала «Репродуктивная Эндокринология» работа над вхождением в ведущие международные наукометрические базы и каталоги.

Современный ученый должен быть зарегистрирован в международных базах данных. Прежде всего речь идет о получении международного идентификатора ученого ORCID (http://orcid.org/).

ORCID (Open Researcher and Contributor ID) – это реестр уникальных идентификаторов ученых, упрощающий поиск исследовательских работ авторов.

Posted: 2015-04-11
More...
No 39 (2018)
Table of Contents
Tumors and pretumoral pathology
Gynecology
Interdisciplinary problems
Pregnancy and childbirth
Inflammatory diseases
Drug therapy