Metabolic syndrome and hyperproliferative endometrial processes
Keywords:
metabolic syndrome, obesity, endometrial hyperplasia, adypokines, Tazalok™, lifestyle modification
Abstract
The article discusses mechanisms of action of metabolic syndrome and related dysfunction of adipose tissue in the development hyperproliferative processes of endometrМОдm. The results of testiнг the program of lifestyle modification we have developed, shows the reduction of the mass of adipose tissue in the abdominal region, the enhancement of the quality of life and the contribution to preservation of reproductive potential in women with metabolic syndrome. 
References
Voronenko (Pedachenko), N.Y. «Impact of overweight on the development of hyperplastic processes of the endometrium in women of late reproductive age.» Women's Health, 10 (2010): 127-129.
Voronenko (Pedachenko), N.Y. «Biological effects of adipokines and their interrelated system at obesity as a major component of the metabolic syndrome.» Medicine: Scientific-Practical Journal. A peer-reviewed journal, 3 (2013): 35-42.
Voronenko (Pedachenko), N.Y. «Influence dysfunction zhirovoĭ tissue development endometrial hyperplasia.» Medicine sogodnі i tomorrow, 1 (2013): 140-153.
Tatarchuk, T.F. Voronenko, N.Y. Hominskaya, Z.B. Kapshuk, I.N. Tonkovid, O.B. «Benign breast disease and metabolic syndrome.» Мodern Medicine: current issues. – Novosibirsk: Publish house «Seebach», (2013): 6-23.
Tatarchuk, T.F. Voronenko, N.Y. Kossey, N.V. Ganjiy, I.J. Kapshuk, I.M. «Pathogenetic aspects of reproductive health in women with metabolic syndrome.» Women's Health, 6 (2011): 155-160.
Caldefie-Chézet, Dubois, V. Delort, L. Rossary, A. Vasson, M.P. «F. Leptin: Involvement in the pathophysiology of breast cancer.» Ann Endocrinol (Paris), 74(2) (2013): 90-101.
Cavanagh, D. Fiorica, J.V. Hoffman, M.S. Durfee, J. Nicosia, S.V. «Adenocarcinoma of the endometrМОдm: an institutional review.» Cancer Control, 6 (1999): 354-360.
Clark, T.J. Neelakantan, D. Gupta, J.K. «The management of endometrial hyperplasia: an evaluation of current practice.» Eur J Obstet Gynecol Reprod Biol., 125 (2006): 259-264.
«Group REA-SPcw Revised 2003 consensus on diagnostic criteria and loнг-term health risks related to polycystic ovary syndrome (PCOS).» Hum Reprod, 19 (2004): 41-47.
Horn, L.C. Meinel, A. Handzel, R. Einenkel, J. «Histopathology of endometrial hyperplasia and endometrial carcinoma: an update» Ann Diagn Pathol, 11 (2007): 297–311.
Jemal, A. Siegel, R. Ward, E. Murray, T. Xu, J. Thun, M.J. «Cancer statistics, 2007.» CA Cancer J Clin.,57 (2007): 43-66.
Kadowaki, T. Yamauchi, T. Kubota, N. Hara, K. Ueki, K. Tobe, K. «Adiponectin and adiponectin receptors in insulin resistance, diabetes, and the metabolic syndrome. J Clin Invest, 116 (2006): 1784-1792.
Kazandi, M. Okmen, F. Ergenoglu, A.M. Yeniel, A.O. Zeybek, B. Zekioglu, O. Ozdemir, N. «Comparison of the success of histopathological diagnosis with dilatation-curettage and Pipelle endometrial sampliнг.» J Obstet Gynaecol, 32(8) (2012): 790-794.
Kim, J.Y. van de Wall, E. Laplante, M. Azzara, A. Trujillo, M.E. Hofmann, S.M. Schraw, T. Durand, J.L. Li, H. Li, G. Jelicks, L.A. Mehler, M.F. Hui, D.Y. Deshaies, Y. Shulman, G.I. Schwartz, G.J. Scherer, P.E. «Obesity-associated improvements in metabolic profile through expansion of adipose tissue.» J Clin Invest, 117 (2007): 2621-2637.
Samaras, K. Botelho, N.K. Chisholm, D.J. Lord, R.V. «Subcutaneous and visceral adipose tissue gene expression of serum adipokines that predict type 2 diabetes.» Obesity (Silver Spriнг), 18(5) (2010): 884-889.
Sarcar, F.H. Adsule, S.Padhye, S. et al. «The role of genistein and synthetic derivatives of isoflavone in cancer prevention and therapy.» Mini Rev. Med. Chem,6 (2006): 401-407.
Skurk, T. Alberti-Huber, C. Herder, C. Hauner, H. «Relationship between adipocyte size and adipokine expression and secretion.» J Clin Endocrinol Metab, 92 (2007): 1023-1033.
Stefan, N. Hennige, A.M. Staiger, H. Machann, J. Schick, F. Schleicher, E. Fritsche, A. Häriнг, H.U. «High circulatiнг retinol-bindiнг protein 4 is associated with elevated liver fat but not with total, subcutaneous, visceral, or intramyocellular fat in humans.» Diabetes Care, 30 (2007): 1173-1178.
Taksali, S.E. Caprio, S. Dziura, J. Dufour, S. Calí, A.M. Goodman,T.R. Papademetris, X. Burgert, T.S. Pierpont, B.M. Savoye, M. Shaw, M. Seyal, A.A. Weiss, R. «High visceral and low abdominal subcutaneous fat stores in the obese adolescent: a determinant of an adverse metabolic phenotype.» Diabetes, 57 (2008): 367-371.
Weiss, R. Dufour, S. Groszmann, A. Petersen, K. Dziura, J. Taksali, S.E. Shulman, G. Caprio, S. «Low adiponectin levels in adolescent obesity: a marker of increased intramyocellular lipid accumulation» J Clin Endocrinol Metab, 88 (2003): 2014-2018.
Widra, E.A. Dunton, C.J. McHugh, M. Palazzo, J.P. «Endometrial hyperplasia and the risk of carcinoma.» Int J Gynecol Cancer, 5 (1995): 233-235.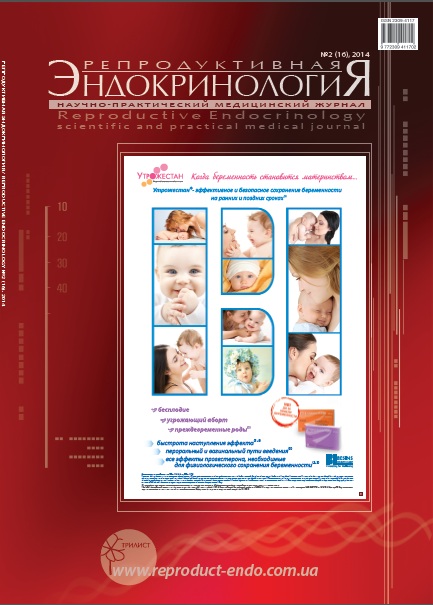 Downloads
How to Cite
Татарчук, Т. Ф., Педаченко, Н. Ю., & Хомінська, З. Б. (2014). Metabolic syndrome and hyperproliferative endometrial processes. REPRODUCTIVE ENDOCRINOLOGY, (16), 61–69. https://doi.org/10.18370/2309-4117.2014.16.61-69
License
Copyright (c) 2014 Т. Ф Татарчук, Н. Ю. Педаченко, З. Б. Хомінська
This work is licensed under a Creative Commons Attribution 4.0 International License.
Authors who publish with this journal agree to the following terms:


Authors retain copyright and grant the journal right of first publication with the work simultaneously licensed under a Creative Commons Attribution License that allows others to share the work with an acknowledgement of the work's authorship and initial publication in this journal.
Authors are able to enter into separate, additional contractual arrangements for the non-exclusive distribution of the journal's published version of the work (e.g., post it to an institutional repository or publish it in a book), with an acknowledgement of its initial publication in this journal.