The role of vitamin d deficiency in the development of luteal phase deficiency
Keywords:
vitamin D, luteal phase deficiency, premenstrual bleeding, progesterone, estradiol, endometrium, post peak phase
Abstract
Vitamin D (VD) deficiency connecting with insufficient production in the skin and limited alimentation delivery, disrupts the function of all system of the body and increases the risk of women health. VD receptor and VD metabolizing enzymes have been detected in female reproductive tissues, such as ovary, uterus and placenta. There is an increasing human data suggesting that VD status may be associated with impaired fertility, endometriosis, polycystic ovary syndrome, and ovarian cancer. We studied the role of Vitamin D deficiency andpathogenesis role in the development of deficiency of Luteal Phase.Was detected the positive correlations with premenstrual bleeding, luteal progesterone and estradiol levels and no connecting with post peak duration.
References
Mithal, A. Wahl, D.A. Bonjour, J.P. Burckhardt, P. Dawson-Hughes, B. Eisman, J.A. El-Hajj Fuleihan, G. Josse, R.G. Lips, P. Morales-Torres, J. «Global vitamin D status and determinants of hypovitaminosis.» Osteoporos. Int., 20(2009): 1807-1820.
Kuchuk, N.O. van Schoor, N.M. Pluijm, S.M. Chines, A. Lips, P. «Vitamin D status, parathyroid function, bone turnover, and BMD in postmenopausal women with osteoporosis: global perspective.» J Bone Miner Res., 24(2009): 693-701.
Holick, M.F. «Vitamin D: a D-lightful health perspective.» Nutr. Rev., 66(2008): 182-194.
Strushkevich, N. Usanov, S.A. Plotnikov, A.N. Jones, G. Park, H.W. «Structural analysis of CYP2R1 in complex with vitamin D3.»/ J Mol. Biol., 380(2008): 95-10.
Janelle Luk «Relevence of vitamin D in reproduction/ Janelle Luk. Relevence, Saioa Torrealdy Gebevieve Neal Perry.» Hum. Reprod, 27(2012): 3015-3027.
John, S. Adams, Martin Hewison, J. «Adams Update in Vitamin D.» Clin. Endocrin. Metab, 95(2) (2010): 471-478.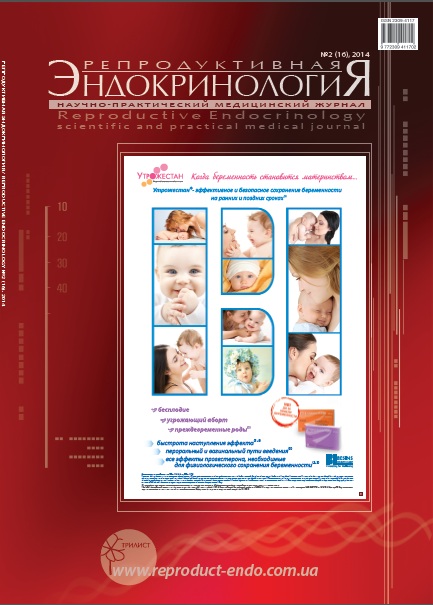 Downloads
How to Cite
Bulavenko, O. V., Dzis, N. P., & Furman, O. V. (2014). The role of vitamin d deficiency in the development of luteal phase deficiency. REPRODUCTIVE ENDOCRINOLOGY, (16), 14–17. https://doi.org/10.18370/2309-4117.2014.16.14-17
Section
Exchange of clinical experience
License
Copyright (c) 2014 O. V. Bulavenko, N. P. Dzis, O. V. Furman
This work is licensed under a Creative Commons Attribution 4.0 International License.
Authors who publish with this journal agree to the following terms:


Authors retain copyright and grant the journal right of first publication with the work simultaneously licensed under a Creative Commons Attribution License that allows others to share the work with an acknowledgement of the work's authorship and initial publication in this journal.
Authors are able to enter into separate, additional contractual arrangements for the non-exclusive distribution of the journal's published version of the work (e.g., post it to an institutional repository or publish it in a book), with an acknowledgement of its initial publication in this journal.