Evaluation of the efficiency and safety of long-term cimicifuga racemosa extract therapy in patients with climacteric syndrome
Keywords:
climacteric syndrome, neurotransmitters, Klimadynon
Abstract
To evaluate the efficiency and safety of long-term use of Klimadynon® based on an extract of the medicinal plant Cimicifuga racemosa (CR) for the treatment of climacteric syndrome (CS), 35 peri- and early postmenopausal women aged 45 to 60 years with moderate CS (Group 1) were examined. Group 2 consisted of 35 women of the same age with moderate CS who received placebo.
Comprehensive clinical and laboratory examination of the patients involved evaluation of the symptoms of CS, assessment of the results of hormonal examination, biochemical and lipid profile studies, small pelvic ultrasonography, Pipelle endometrial biopsy, mammography, and determination of the levels of major plasma and urinary neutrotransmitters. Therapy with the drug containing a CR extract was ascertained to be significantly more effective than placebo. Additional positive lipid spectrum changes and no hepatotoxicity were found.
References
Smetnyk VP Medeсine of climacteric, M., 2006; 50–67.
Andrikoula M, Prelevic G Menopausal hot flushes revisited. Climacteric 2009; 12: 1: 3–15.
Berendsen HH The role of serotonin in hot flushes. Maturitas 2000; 36: 3: 155–164.
Freedman RR Menopausal hot flashes. In: Menopause: biology and pathobiology. Eds. R. Lobo, J. Kelsey, R. Marcus. San Diego: Academic Press 2000; 215–227.
Freedman RR, Krell W Reduced Thermoregulatory null zone in postmenopausal women with hot flashes. Am J Obstet Gynecol 1999; 181: 1: 66–70.
Geller SE, Studee L Contemprorary alternatives to plant estrogens for menopause. Maturitas 2006; 55: Suppl: 1: 3–13.
Jokinen K, Rautava P, Makinen Experiense of climacteric symptoms among 42–46 and 52–56-year-old women. Maturitas 2003; 46: 199–205.
Mahady GB, Fong HНS, Farnsworth NR Rhizoma cimicifuga racemosa. In: WHO monographs on selected medicinal plants. Geneva (Switzerland): WHO 2002.
Stadberg E, Mattsson LA, Milsom I Factors associated with climacteric symptoms and the use of hormone replacement therapy. Acta Obstet Gynecol Scand 2000; 79: 286–292.
Seidova-Wuttke D, Jarry H, Becker T, Christoffel V, Wuttke W Pharmacology of Cimicifuga racemosa extract BNO 1055 in rats: bone, fat and uterus. Maturitas 2003; 44: Suppl: 1: 39–50.
Wuttke W, Jarry H, Westohaeen S Are the phytoestrogens an alternative of replacement hormone therapy? Gynecology 2002; 9–20.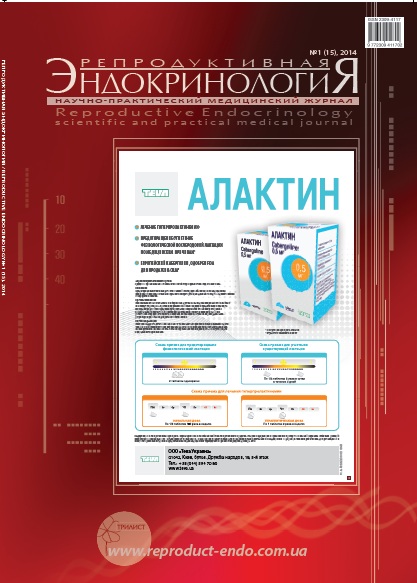 Downloads
How to Cite
Рафаэлян, И. В., Балан, В. Е., Юсупова, И. У., Филатова, Т. С., Ковалева, И. А., & Агаларзаде, Г. Б. (2014). Evaluation of the efficiency and safety of long-term cimicifuga racemosa extract therapy in patients with climacteric syndrome. REPRODUCTIVE ENDOCRINOLOGY, (15), 38–44. https://doi.org/10.18370/2309-4117.2014.15.38-44
Section
Management of menopause
License
Copyright (c) 2014 И. В. Рафаэлян, В. Е. Балан, И. У. Юсупова, Т. С. Филатова, И. А. Ковалева, Г. Б. Агаларзаде
This work is licensed under a Creative Commons Attribution 4.0 International License.
Authors who publish with this journal agree to the following terms:


Authors retain copyright and grant the journal right of first publication with the work simultaneously licensed under a Creative Commons Attribution License that allows others to share the work with an acknowledgement of the work's authorship and initial publication in this journal.
Authors are able to enter into separate, additional contractual arrangements for the non-exclusive distribution of the journal's published version of the work (e.g., post it to an institutional repository or publish it in a book), with an acknowledgement of its initial publication in this journal.