Some aspects of diagnosis and treatment of iron deficiency conditions in current clinical practice
Keywords:
iron deficiency anemia, diagnosis, treatment
Abstract
Iron deficiency anemia is a most common pathology in the world. This review presents current data regarding its diagnosis and treatment including dosing regimens of some iron medications.
References
Arkadieva GV Diagnosis and treatment of IDA. M.: 1999.
WHO The official annual report Geneva, 2002.
Iron deficiency anemia assessment, prevention and control. A guid for programme managers – Geneva: World Health Organization, 2001 (WHO/NHD/01.3).
Dvoretsky LI IDA. Nyudiamid-AO. M.: 1998.
Kovaleva L Iron deficiency anemia. M.: Doctor. 2002, 12: 4-9.
Serov VN, Ordzhonikidze NV Obstetric and perinatal aspects of Anemia. – M.: «Volga-Media» Breast Cancer. 2004, 12: 1 (201): 12–15.
Perewusnyk G, Huch R, Huch A, Breymann C British Jornal of Nutrition. 2002; 88: 3–10.
Strai SKS, Bomford A, McArdle HI Iron transport across cell membranes:molecular uderstanding of duodenal and placental iron uptake. Best Practise & Research Clin Haem. 2002; 5: 2: 243–259.
Kemna EH, Tjalsma H, Willems H et al. Hepcidin: from discovery to differential diagnosis. Haematologica. 2008; 93: 90–97.
Fleming R Iron and inflammation: cross:talk between path: ways regulating hepcidin. J. Mol. Med. 2008; 86: 491–494.
Schaefer RM, Gache K, Huh R, Krafft A Iron Letter: recommendations for the treatment of iron deficiency anemia. Hematology and transfusiologia 2004, 49 (4): 40–48.
Burlev VA, Ordzhonikidze NV, Sokolova MY, Suleimanova IG, Ilyasova NA Replace of iron deficiency in pregnant women with bacterial-viral infection. Journal of Russian Society of Obstetricians and Gynecologists, 2006, 3: 11–14.
Tikhomirov AL, Sarsaniya SI Rational therapy and modern principles of diagnostics of iron deficiency states in obstetric practice. Farmateka. 2009, 1, 32–39.
Dolgov VV, Lugovskaya SA, Morozova VT, Pochtar ME Laboratory diagnostics of anemia. M.: 2001, 84.
Levina AA, Kazyukova TV, Tsvetaeva NV et al. Hepcidin as a regulator of iron homeostasis. Pediatrics. 2008, 1: 67–74.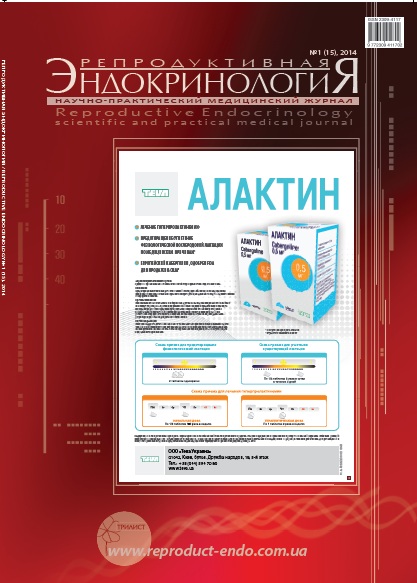 Downloads
How to Cite
Тихомиров, А. Л., Сарсания, С. И., & Ночевкин, Е. В. (2014). Some aspects of diagnosis and treatment of iron deficiency conditions in current clinical practice. REPRODUCTIVE ENDOCRINOLOGY, (15), 20–35. https://doi.org/10.18370/2309-4117.2014.15.20-35
License
Copyright (c) 2014 А. Л. Тихомиров, С. И. Сарсания, Е. В. Ночевкин
This work is licensed under a Creative Commons Attribution 4.0 International License.
Authors who publish with this journal agree to the following terms:


Authors retain copyright and grant the journal right of first publication with the work simultaneously licensed under a Creative Commons Attribution License that allows others to share the work with an acknowledgement of the work's authorship and initial publication in this journal.
Authors are able to enter into separate, additional contractual arrangements for the non-exclusive distribution of the journal's published version of the work (e.g., post it to an institutional repository or publish it in a book), with an acknowledgement of its initial publication in this journal.