Physiology of hypothalamo-pituitary-thyroid system and its connection with other endocrinal glands
Keywords:
thyroid gland, thyrotropin, neuromediators, hypothyroidism, steroid hormones
Abstract
In this work we gave a review of literature in the field of regulation of thyroid function with a glance on data of clinical and experimental endocrinology; with a glance on factors of inhibition and secretion; and those which synthesize and secrete thyrotropin (both in normal and pathological situations).
References
Radzinsky VE Obstetrics: Textbook – M. GEOTAR-Media, 2008. – P. 405–424.
Burumkulova FF, Gerasimov GA Thyroid disease and pregnancy // Problems of Endocrinology, 1998, Vol. 44, No. 2, P. 27–32.
Donchenko LA, Drucker AA, Bondarenko GI, Koroleva EV Impact of iodine deficiency on thyroid hormone levels in pregnant women and placenta blood // Russian messenger of obstetrician–gynecologist. – 2003. – No. 2. – P. 55–57.
Gerasimov GA Epidemiology, prevention and treatment of iodine deficiency diseases // Thyroid Russia, 1997, P. 39–40.
Dedov II, Melnichenko GA, Fadeev VV Endocrinology. – M.: GEOTAR-Media, 2007. – P. 432.
VI Kulakov Clinical recommendations. Obstetrics and Gynecology. Issue 2. M.: GEOTAR -Media, 2008. – P. 251 – 258.
Mariotti S Normal physiology of the hypothalamic -pituitary- thyroid system and its relation to other endocrine glands, nervous system // Clinical tireodologia. – 2003. – T. 1, № 4. – P. 10–17.
Singer P Evaluation of thyroid function // Endocrinology / Ed. Levin N. – M.: Practice 1999.– P. 519–536.
Sosnova EA Role of the thyroid gland in female reproduction system // Obstetrics. and Gynecology. – 1990. – № 4. – P. 6–11.
Scheplyagina LN, Kurmacheva NA, Deyneko OY et al. Health status of children in the first year of life in the area of iodine deficiency / 2d Russian Medical Journal. 2003. – Vol. 1, No. 1. – P. 1–6.
Dubossarskaya ZM Theory and practice of gynecological endocrinology: Educational – handbook . – Dnepropetrovsk: Lear Ltd, 2005, 416 p.
Fadeev VV, Lesnikova SV, Melnichenko GA Functional state of the thyroid gland in pregnant women with antibodies to thyroid peroxidase // Problems of Endocrinology. – 2000. – Vol. 49, No. 5. – P. 23–29.
Hostalek W Thyroid disease and the possibility of effective treatment // Thyroid Russia, 1997, P. 6–11.
Karr F, Ritsiotti X, Freund K et al. Obstetrics, gynecology and women's health. – M. MEDpress Inform 2005. – P. 164.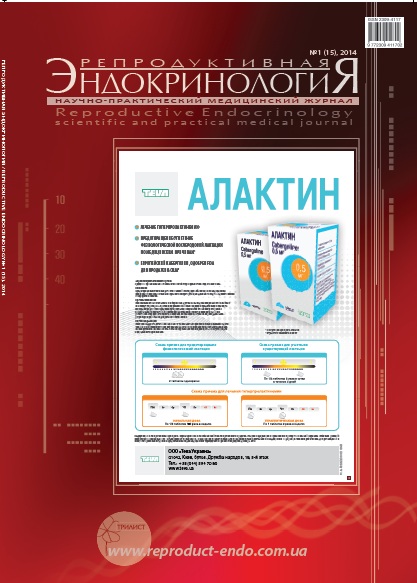 Downloads
License
Copyright (c) 2014 Ю. А. Дубоссарская, З. М. Дубоссарская
This work is licensed under a Creative Commons Attribution 4.0 International License.
Authors who publish with this journal agree to the following terms:


Authors retain copyright and grant the journal right of first publication with the work simultaneously licensed under a Creative Commons Attribution License that allows others to share the work with an acknowledgement of the work's authorship and initial publication in this journal.
Authors are able to enter into separate, additional contractual arrangements for the non-exclusive distribution of the journal's published version of the work (e.g., post it to an institutional repository or publish it in a book), with an acknowledgement of its initial publication in this journal.