Immunological features and prospectives in the treatment of chlamydial infection in women
Keywords:
chlamydia, complications, prevention of fibrosis, tilorone
Abstract
The article analyzes the pathogenetic peculiarities of chlamydial infection influence the reproductive female system. It was performed the emphasis on intracellular lesions initiated by the advent of the «master» followed by the death of epithelial cells of the fallopian tubes and replacement of connective tissue. It was shown the possibility of using tilorone as an antifibrotic agent to prevent formation of scarring of the fallopian tubes and peritubal adhesions.

 
References
Kasihina, E.I. «Recurrent genital warts and latent HPV infection in women: risk factors, clinical features and treatment.» Clinical Dermatology and Venereology,1(2011):49-54.
Abrahams, V.M. «The role of the Nod-like receptor family in trophoblast innate immune responses.» J Reprod Immunol,88(2)(2011):112-117.
Agrawal, T. Gupta, R. Dutta, R. et al. «Protective or pathogenic immune response to genital chlamydial infection in women – a possible role of cytokine secretion profile of cervical mucosal cells.» Clin Immunol,130(2009):347-354.
Azenabor, A.A., Kennedy, P. Balistreri, S. «Chlamydia trachomatis infection of human trophoblast alters estrogen and progesterone biosynthesis: an insight into role of infection in pregnancy sequelae.» Int J Med Sci,64(4)(2007):223-231.
Biendo, M. Lefebvre, J.F. Fuentes, V. Orfila, J. «The prevalence of anti-Chlamydia trachomatis and anti-Chlamydia pneumonia antibodies in Brazzaville.» Bull Soc Pathol Exot,87(2)(1994):85-88.
Chegini, N. «TGF-beta system: the principal profibrotic mediator of peritoneal adhesion formation.» Semin Reprod Med,26(4)(2008):298-312.
Costello, C.M. Cahill, E. Martin, F. et al. «Role of gremlin in the lung: Development and disease.» Am J Respir Cell Mol Biol,42(2010):517-523.
de la Torre, E. Mulla, M.J. Yu, A.G. et al. «Chlamydia trachomatis infection modulates trophoblast cytokine/chemokine production.» J Immunol,182(6)(2009):3735-3745.
Dietrich, W. Rath, M. Stanek, G. et al. «Multiple site sampling does not increase the sensitivity of Chlamydia trachomatis detection in infertility patients.» , Fertil Steril.,93(1)(2010):68-71.
El-Shourbagy, M.A., El-Refaie, T.A. Sayed, K.K. et al. «Impact of seroconversion and antichlamydial treatment on the rate of pre-eclampsia among Egyptian primigravidae.» Int J Gynaecol Obstet,113(2)(2011):137-140.
Equils, O. Lu, D. Gatter, M. et al. «Chlamydia heat shock protein 60 induces trophoblast apoptosis through TLR 4.» J Immunol,177(2)(2006):1257-1263.
Fischer, J. «Tilorone-induced lysosomal storage of glycosaminoglycans in cultured corneal fibroblasts: biochemical and physicochemical investigations.» Biochem. J,312(1995):215-222.
Fischer, J. Hein, L. Lu, R. et al. «Tilorone-induced lysosomal lesions: the bisbasic character of the drug is essential for its high potency to cause storage of sulphated glycosaminoglycans.» Biochem. J,315(1996):369-375.
Judlin, P. «Current concepts in managing pelvic inflammatory disease.» Curr Opin Infect Dis.,23(1)(2010):83-87.
Joan, M.Ch. Mi-Suk, K. Michael, C.S. Gail, B. «Assessment of the Association of Chlamydia trachomatis Infection and Adverse Perinatal Outcomes with the Use of Population-Based Chlamydia Case Report Registries and Birth Records.» Public Health Rep,124(Suppl 2)(2009):24-30.
Hvid, M. Baczynska,A. Deleuran, B. et al. «Interleukin-1 is the initiator of fallopian tube destruction during Chlamydia trachomatis infection.» Cell Microbiol,9(2007):2795-2803.
Kaibara, N. Takagishi, K. Hotokebuchi, T. et al. «Enhancing effects of tilorone on collagen arthritis and humoral immune response to type II collagen.» Clin Immunol Immunopathol,42(3)(1987):311-318.
Lepparanta, O. Tikkanen, J.M. Bespalov, M.M. et al. «Bone Morphogenetic Protein–Inducer Tilorone Identified by High-Throughput Screening Is Antifibrotic In Vivo.» American Journal of Respiratory Cell and Molecular Biology,48(4)(2013):448-455.
Lоpez-Jaramillo, P. Herrera, J.A. Arenas-Mantilla, M. et al. «Subclinical infection as a cause of inflammation in preeclampsia.» Am. J. Ther.,15(4)(2008):373-376.
Luis, M.G., Parry, S. «Trophoblast infection with Chlamydia pneumoniae and adverse pregnancy outcomes associated with placental dysfunction.» Am J Obstet Gynecol,200(5) (2009):526.e1-526.e7.
Martin, D.C., Khare, V.K., Miller, B.E., Batzer, F.R. «Association of positive Chlamydia trachomatis and Chlamydia pneumonia immunoglobulin-gamma titers with increasing age.» J Am Assoc Gynecol Laparosc.,4(5)(1997):583-586.
Molvarec, A., Derzsy, Z., Kocsis, J. «Circulating anti-heat-shock-protein antibodies in normal pregnancy and preeclampsia.» Cell Stress Chaperones,14(5)(2009):491-498.
Mylonas, I. «Female genital Chlamydia trachomatis infection: where are we heading?» Arch Gynecol Obstet,285(5)(2012):1271-1285.
Redman, C.W. Sargent, I.L. «The pathogenesis of preeclampsia.» Gynecol. Obstet. Fertil,29(7-8)(2001):518-522.
Rours, I. Duijts, L. Moll, H. «Chlamydia trachomatis infection during pregnancy associated with preterm delivery: a population-based prospective cohort study.» Eur J Epidemiol,26(2011):493-502.
Simms, I. Eastick, K. Mallinson, H. et al. «Associations between Mycoplasma genitalium, Chlamydia trachomatis, and pelvic inflammatory disease.» Sex Transm Infect,79(2003):154-156.
Stephens, R.S. «The cellular paradigm of chlamydial pathogenesis.» Trends Microbiol,11(2003):44-51.
Xie, F. Hu, Y. Magee, L.A. Money, D.M. «Chlamydia pneumoniae infection in preeclampsia.» Hypertens Pregnancy,29(4) (2010):468-477.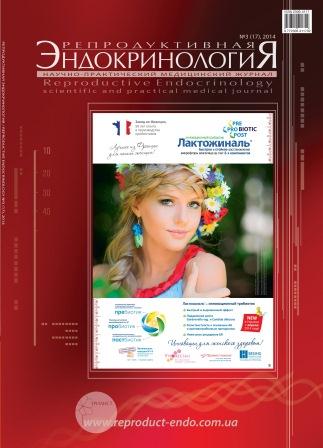 Downloads
How to Cite
Лахно, И. В. (2014). Immunological features and prospectives in the treatment of chlamydial infection in women. REPRODUCTIVE ENDOCRINOLOGY, (17), 76–79. https://doi.org/10.18370/2309-4117.2014.17.76-79
License
Copyright (c) 2014 И. В. Лахно
This work is licensed under a Creative Commons Attribution 4.0 International License.
Authors who publish with this journal agree to the following terms:


Authors retain copyright and grant the journal right of first publication with the work simultaneously licensed under a Creative Commons Attribution License that allows others to share the work with an acknowledgement of the work's authorship and initial publication in this journal.
Authors are able to enter into separate, additional contractual arrangements for the non-exclusive distribution of the journal's published version of the work (e.g., post it to an institutional repository or publish it in a book), with an acknowledgement of its initial publication in this journal.