Medical social and legal aspects of medical abortion in Ukraine
Keywords:
abortion, safe abortion, medical abortion, medical abortion benefits, distribution of medicines for medical abortion
Abstract
Medical abortion is a one of the main methods of safe abortion at an unwanted pregnancy. Good tolerance of drugs, a low rate of complications during the procedure compared with instrumental methods and the absence of serious complications after properly administered procedures, ease of implementation, proven cost-effectiveness can be recommended a method of medical abortion as an effective and relatively safe for terminating unwanted pregnancy.
References
Order of the MO H of Ukraine from 31.12.2010 № 1177 «Comprehensive care during an unwanted pregnancy».
Order of the MOH of Ukraine from 24.05.2013 № 423 «On approval of the Provision of comprehensive care for pregnant woman during an unwanted pregnancy, forms of the primary records and instructions for their fulfill».
Order of the MO H of Ukraine from 13.12.2013 № 1090 «On Approving the Action Plan for implementation of the project «Integrated medical care during junk pregnancy» at the national level».
Belokrinitskaya, T.E. Frolova, N.I. Belokrinitskaya, I.A. Suhinina, V.V. «Comparative evaluation of the clinical course of medical abortion with 200 and 600 mg mifepristone: a prospective cohort study.» Obstetrics and Gynecology,3(2014):81-86.
Posokhova, S.P. Gumenuk, L.Y. Nikolaeva, S.V. «Medical abortion is a real choice of reproductive health.» Women Health,5(38) (2008):3-7.
Popova, Y.N. Kylinich, S.I. «Comparative analysis of medical complications and medical abortion and their prevention.» Topical issues of preventive medicine and healthy lifestyles: Collection of scientific articles. Irkutsk: RIO IGIUVa,(2)(2010)188 p.
≪Medical abortion in resource-limited settings.» An Introductory Guide. Second edition. New York(2009)63 p.
Dicke, G.B. «Endometrial thickness is not a criterion for the selection of instrumental revision of the uterine cavity after medical abortion.» Medical Council,7-8(2010):49-52.
Frankel, N. Eybernati, M. «Uterine evacuation with a syringe aspirator Ipas MVA Plus cannula Ipas EasyGrip: educational brochure.» Chapel Hill, NC, Ipas(2004).
Radzinsky, V.E. Ordiyants, I.M. Sideropolu, N.H. «Contraception after medical abortion.» Difficult Patient,1(2007).
Padalko, L.I. Zaharchenko, R.M. Bondarenko, S.G. Maltseva, A.I. «Medication abortion is an alternative to traditional methods of abortion in pregnant for the first time and young women.» Female Doctor,5(2008):38 p.
Dicke, G.B. «Abortion: from agitation to mature reflection. Maternal mortality and morbidity after abortion. Provisions medical care for women.» Status Praesens. Gynecology, obstetrics, barren marriage. Infections and Infectious Control,2(8)(2012).
Chayka, K.V. Lasachko, S.A. Kvashenko, V.P. «Prevention of dishormonal breast diseases in women after spontaneous abortion of pregnancy in the first trimester.» Reproductive Women Health,3(37)(2008):134-138.
Zheleznaya, A.A. Chayka, K.V. Lasachko, S.A. Tregubenko, A.A. Kornienko, S.M. «Benefits of medical abortion today in obstetrician practice.» Russian Medical Journal, 5(38)(2008):3-7
Kirbasova, N.P. «Sparing abortion. Medical abortion: economic and organizational aspects.» Status Praesens,1(4)(2011).
Safe abortion: technical and policy guidance for health systems. Second edition. WHO(2012).
Tang, O.S. Schweer, H. Seybert, H.W. et al. «Pharmacokinetics of different routes of administration of misiprostol.» Human Reproduction,17(2002):332-336.
Von Hertzen, H. Honkanen, H. Piaggio, G. et al. «WHO multinational study of three misoprostol regimens after mifepristone for early medical abortion. I: Efficacy.» British Journal of Obstetrics & Gynecology,110(2003):808-818.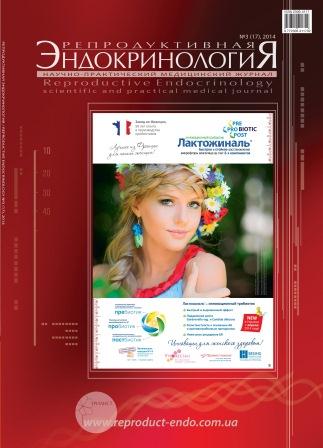 Downloads
How to Cite
Каминский, В. В., & Прядко, Н. Г. (2014). Medical social and legal aspects of medical abortion in Ukraine. REPRODUCTIVE ENDOCRINOLOGY, (17), 30–35. https://doi.org/10.18370/2309-4117.2014.17.30-35
License
Copyright (c) 2014 Вячеслав Владимирович Каминский, Н. Г. Прядко
This work is licensed under a Creative Commons Attribution 4.0 International License.
Authors who publish with this journal agree to the following terms:


Authors retain copyright and grant the journal right of first publication with the work simultaneously licensed under a Creative Commons Attribution License that allows others to share the work with an acknowledgement of the work's authorship and initial publication in this journal.
Authors are able to enter into separate, additional contractual arrangements for the non-exclusive distribution of the journal's published version of the work (e.g., post it to an institutional repository or publish it in a book), with an acknowledgement of its initial publication in this journal.