The effectiveness of herbal medicines in the management of menopause
Keywords:
menopause, herbal medicines, Vimens, Menorma
Abstract
It was examined 96 patients with climacteric syndrome. And 30 of them sedatives were prescribed, 34 had taken the dry extract of soybean seeds in tablets, and 32 patients were administered Menorma 2 tablets 2 times a day during genital tract bloody discharge and Vimens 1 capsule daily within 3 months. In patients with climacteric syndrome combined treatment with phytoextracts contained in Vimens and Menorma had contributed to more rapid and significant decrease in symptoms compared with sedatives and soybean seed extract. The application of Vimens and Menorma had reduced the incidence of abnormal uterine bleeding more than 2 times. In order to achieve positive metabolic, vasotrophic and haemostatic effects it's necessary to add to phytoestrogens preparations extracts of sage, agnus castus, shepherd's purse and bark of viburnum.
References
Bolca, S. Li, J. Nikolic, D. et al. «Disposition of hop prenylflavonoids in human breast tissue.» Mol Nutr Food Res, 54 (2010): 284-294.
Cuzick, J. Sestak, I. Bonanni, B. et al. «Selective oestrogen receptor modulators in prevention of breast cancer: an updated meta-analysis of individual participant data.» Lancet, 381 (2013): 1827- 1834.
Geller, S. E. Studee, L. «Botanical and dietary supplements for menopausal symptoms: what works, what does not.» J Womens Health, 14 (2005): 634-649.
Kianbakht, S. Abasi, B. Perham, M. Dabaghian, H. F. «Antihyperlipidemic effects of Salvia officinalis L. leaf extract in patients with hyperlipidemia: a randomized double-blind placebo-controlled clinical trial.» Phytother Res, 25(12) (2011): 1849-1853.
Kianbakht, S. Dabaghian, F. H. «Improved glycemic control and lipid profile in hyperlipidemic type 2 diabetic patients consuming Salvia officinalis L. leaf extract: a randomized placebo. Controlled clinical trial.» Complement Ther Med, 21(5) (2013): 441-446.
Park, S. H. Sim, Y. B. Kang, Y. J. et al. «Hop Extract Produces Antinociception by Acting on Opioid System in Mice.» Korean J Physiol Pharmacol, 16(3) (2012): 187-192.
Pitkin, J. «Alternative and complementary therapies for the menopause.» Menopause Int, 18(1) (2012): 20-27.
Rahte, S. Evans, R. Eugster, P. J. et al. «Salvia officinalis for hot flushes: towards determination of mechanism of activity and active principles.» Planta Med, 79(9) (2013): 753-760.
Roelens, F. Heldring, N. Dhooge, W. et al. «Subtle side-chain modifications of the hop phytoestrogen 8-prenylnaringenin result in distinct agonist/antagonist activity profiles for estrogen receptors alpha and beta.» J Med Chem, 49 (2006): 7357–7365.
Rossouw, J. E. Anderson, G. L. Prentice, R. L. et al. «Risks and benefits of estrogen plus progestin in healthy postmenopausal women: principal results from the Women's Health Initiative randomized controlled trial.» JAMA, 288 (2002): 321–333.
Schneider, H.P.G. Rosemeier, H.P. Schnitker, J. et al. «Application and factor analysis of the menopause rating scale [MRS] in a post-marketing surveillance study of Climen (R).» Maturitas, 37 (2000):113-124.
Szkutnik-Fiedler, D. Jedrzejczyk, M. Grzeskowiak, E. et al. «The role of phytoestrogen therapy in relieving postmenopausal symptoms.» Ginekol Pol, 81(12) (2010): 929-934.
van Die, M. D. Bone, K. M. Burger, H. G. et al. «Effects of a combination of Hypericum perforatum and Vitex agnus-castus on PMS-like symptoms in late-perimenopausal women: findings from a subpopulation analysis.»J Altern Complement Med, 15(9) (2009): 1045-1048.
Wend, K. Wend, P. Krum, S.A. «Tissue-Specific Effects of Loss of Estrogen during Menopause and Aging.» Front Endocrinol (Lausanne), 3 (2012): 19-25.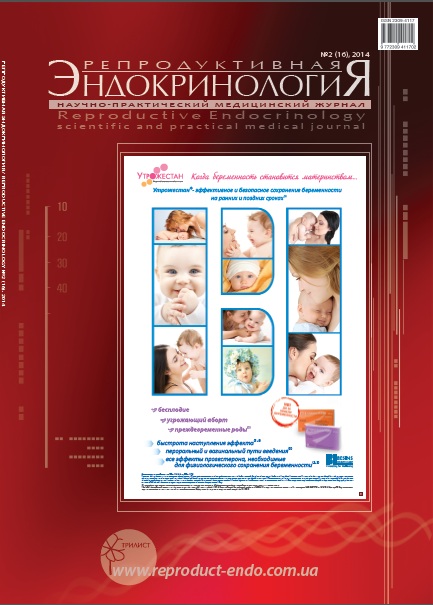 Downloads
How to Cite
Лахно, И. В. (2014). The effectiveness of herbal medicines in the management of menopause. REPRODUCTIVE ENDOCRINOLOGY, (16), 3034. https://doi.org/10.18370/2309-4117.2014.16.3034
Section
Management of menopause
License
Copyright (c) 2014 И. В. Лахно
This work is licensed under a Creative Commons Attribution 4.0 International License.
Authors who publish with this journal agree to the following terms:


Authors retain copyright and grant the journal right of first publication with the work simultaneously licensed under a Creative Commons Attribution License that allows others to share the work with an acknowledgement of the work's authorship and initial publication in this journal.
Authors are able to enter into separate, additional contractual arrangements for the non-exclusive distribution of the journal's published version of the work (e.g., post it to an institutional repository or publish it in a book), with an acknowledgement of its initial publication in this journal.